Flow and Rest
a peaceful yoga & meditation retreat
18 to 23 July 2023
at Les Gavatxes in the Catalan Pyrenees, Spain
with Athena
maximum of 12 participants
In this 6 day retreat, you can expect some silence, active (vinyasa) yoga and relaxing yin yoga, meditation, mindful nature walks, great vegetarian food, connections and great views.
A beautiful moment to disconnect from everyday life, screens and to-do lists, to connect with yourself, to ground with the mountains, with your body and breath and enjoy following what feels nourishing to you.
Although it is not a fully silent retreat, we will have silent moments, such as the first couple of hours in the morning, to give you space with yourself and the sunrise.
Here is a sample schedule (subject to change):
6:45 wake up
7:15 sunrise meditation
7:45 vinyasa / slow flow
9:00 breakfast
10:30 free time / mindful hike
12:30 lunch
14:00 resting
16:00 silent meditation
16:30 vinyasa yoga or activity
18:00 free time / journaling
19:00 dinner
20:30 relaxing practice (yin yoga, meditation, kirtan)
Accommodation
You have the option to camp (bringing your own equipment) or share an accommodation (2 people per unit). Individual rooms (with shared bathroom) are available. They are limited, so please check with us first if you would like to stay in an individual room. The pricing is different according to your choice.
Les Gavatxes offers beautiful rooms/apartments, each unique and comfortable. Sheets, pillowcases, duvet covers, bath and hand towels are provided. If you are camping, we can provide you with towels.
Kshanti - Les Gavatxes is a traditional Catalan Masía with plenty of history, built over two hundred years ago. It is immersed in the middle of unspoiled nature in the mountains of the nature reserve of Alta Garrotxa. The estate is 56 hectares and consists mostly of forest, meadows and two rivers.The mission of Kshanti is to create space for mindful transformation.
You may see the accommodations of Les Gavatxes on their
website
.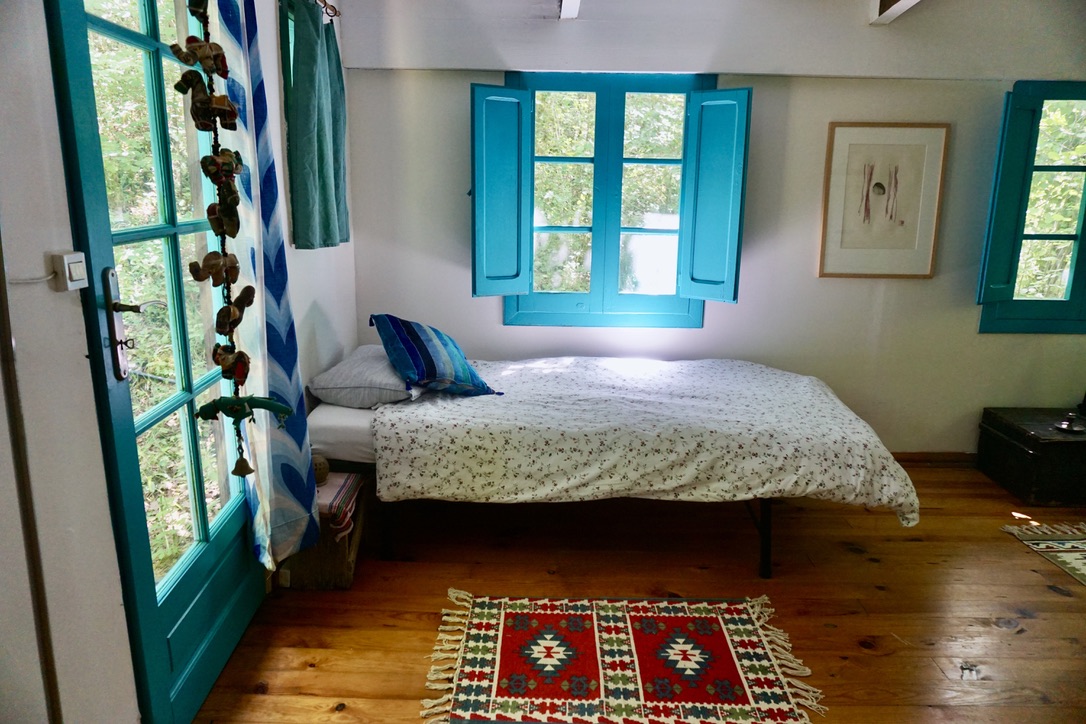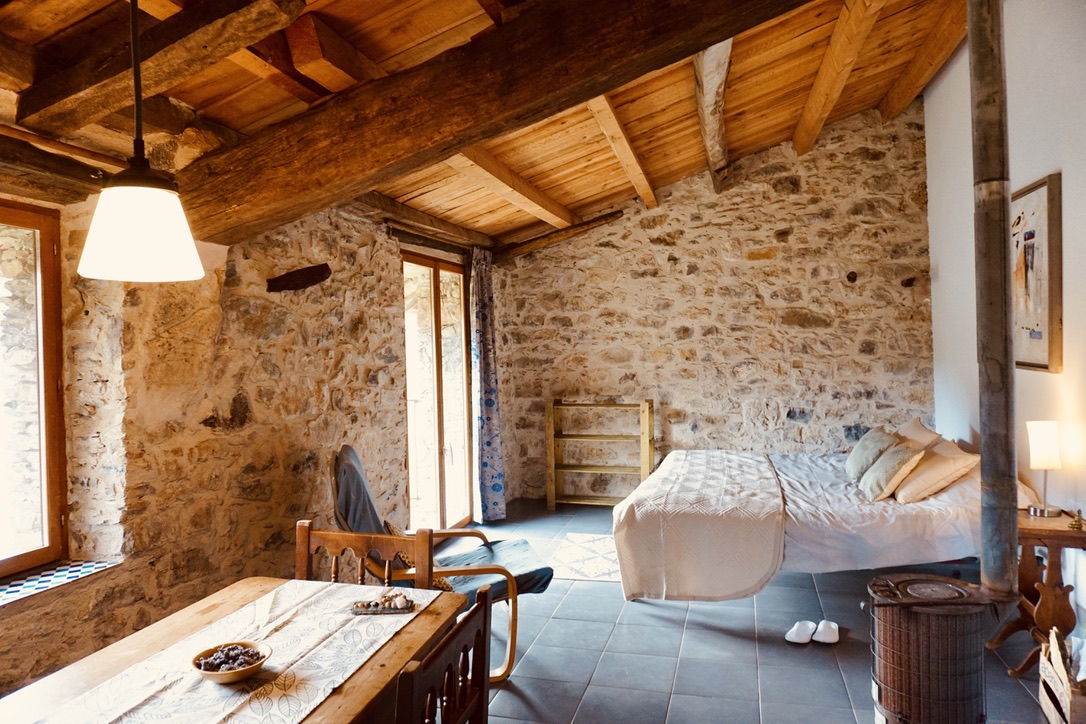 Food
3 meals per day, all vegetarian, and made with love.
Please let us know as soon as possible if you have allergies or dietary requests.
How to get there?
Pricing includes everything except your flight/train and ride to Les Gavatxes
Les Gavatxes, 17867 Beget (Girona), Spain.
You can arrive with your own vehicle or by bus (
http://www.teisa-bus.com
) from Barcelona or Girona to Castellfollit de la Roca. There we can come to pick you up or we can organise to share cars to the house.
To save on costs, we can manage how to share the taxi between retreat goers:
| | | | |
| --- | --- | --- | --- |
| Price (€) per person / from | Castellfollit | Girona airport | Figueres station |
| 1 person | 20 | 50 | 40 |
| 2 person | 10 | 25 | 20 |
| 3 person | 10 | 20 | 15 |
To be paid cash on the day of.
Yoga and Meditation Props
Yoga mats, meditation cushions and blankets are provided if you do not wish to bring your own.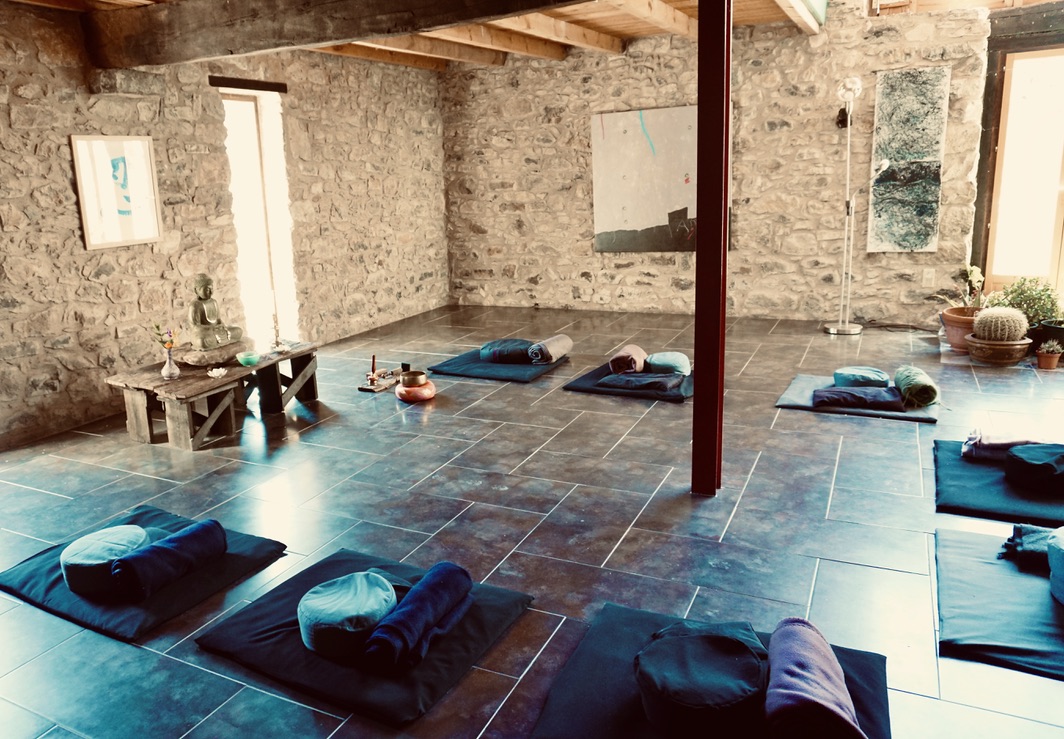 Pricing
Including (VAT):
Camping: €525
Shared Room: €695
Private Room (limited availability): €810
Early Bird pricing: 10% discount if you book by 18 February 2023
(Camping: €473, Shared Room: €625, Private Room: €729)
Includes:

2 yoga asana classes, 2 meditation sessions and 1 activity per day
Accommodation for 5 nights
3 homemade vegetarian meals a day
Welcome drink
Yoga mat and meditation cushions
Exclusive use of the property
Registration and Payment
To sign up, please fill this
form
A deposit of €250 is required to save your spot.
Bank transfer if paying in Euros:
ADM Vassilatos Kirste
NL85 ABNA 0869 9088 04
Please write "Yoga Retreat, (your name)" in the desription.
Paypal:
If paying in another currency, you can use Wise:
Using the Euro Bank information
You may choose from 4 payment options
, according to what is most accessible for you:
If you need to discuss the options, feel free to send me an email.
Option 1
Pay in full on registration.
Option 2
€250 deposit on registration
Balance by 18 July 2023 (option to pay balance in cash)
Option 3
€250 deposit on registration
€250 by 1 May 2023
Balance by 18 July 2023 (option to pay balance in cash)
Option 4
€150 deposit on registration
€150 by 1 April
€150 by 1 May
€150 by 1 June 2023
Balance by 18 July 2023 (option to pay balance in cash)
Cancelation
The deposit amount is refundable until 1 June 2023 less €20 administration fee and any associated bank fees. If cancelled by 27 June 2023, you will get a 50% refund, less any associated bank fees. Any cancellation after 27 June 2023 will not be refunded.
Retreat Time
Starting: 18 July 2023 at 18:00
Finishing: 23 July 2023 at 16:00
You may arrive at Les Gavatxes from 14:00 on the first day and must leave by 17:00 on the last day.
The teacher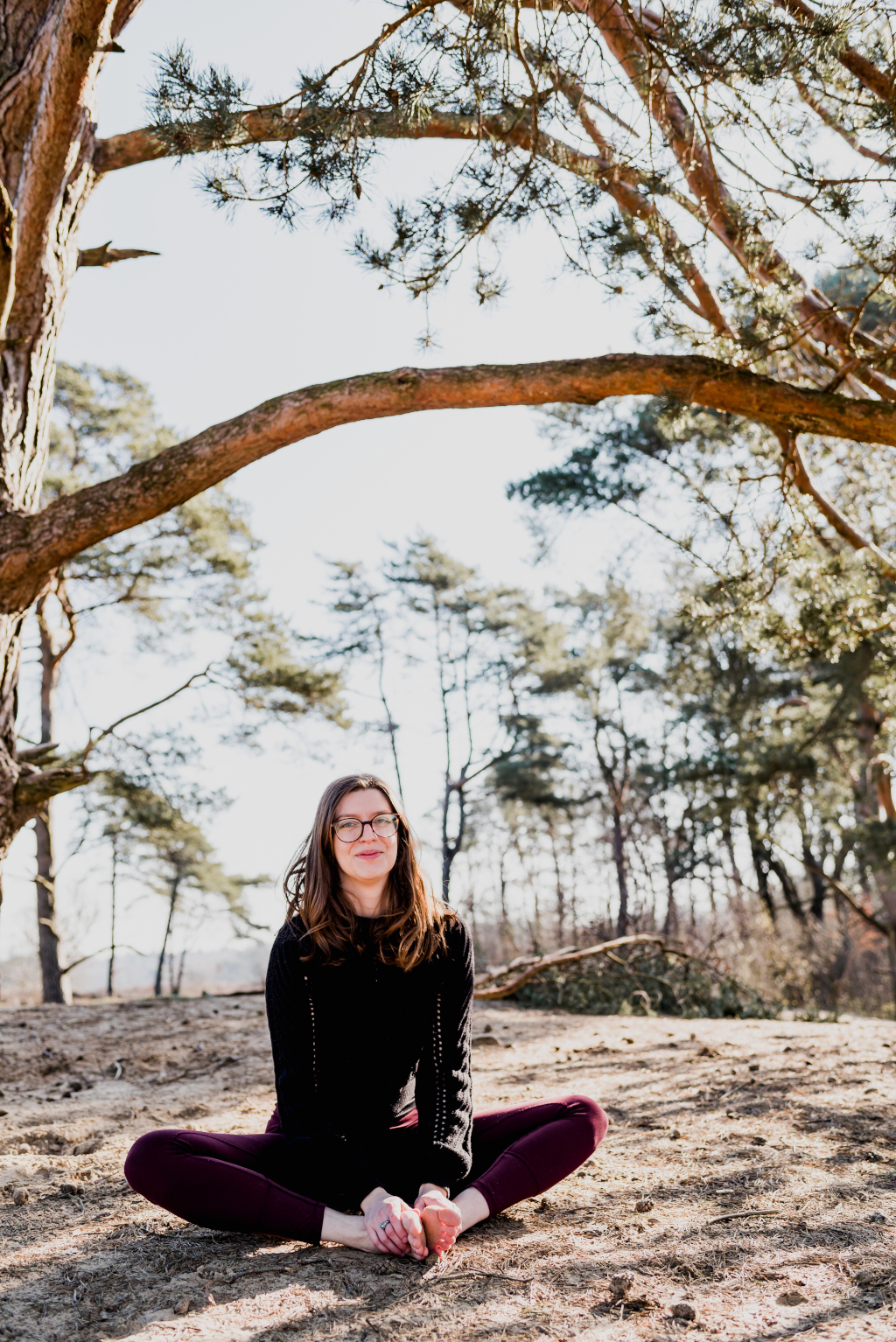 My name is Athena, I have been teaching yoga since 2015. My practice began in Montreal, Canada in 2010, I began learning from many teachers through practice, and took a 200 hour training in Bali, Indonesia in 2015. I continued studying in Canada diving into topics such as yin yoga, hands-on assisting, Yoga Tune Up (functional movement in yoga and Myofascial Release). I moved to the Netherlands in early 2020, where I teach and since 2021, I am studying physiotherapy.
My purpose as a yoga and meditation teacher is to offer the space for presence, away from the distractions of everyday life, and to take the time to feel any thought and emotion as it shows up. This is practised through mindful movement, understanding of one's body, and through stillness, rest, silence and sounds.
My intention for this retreat is to offer you a space to lean towards silence - inner and outer - to feel present in your body and to savour the beautiful mountains, nature and of course the delicious food.
This retreat is offered in English.
I also speak French, and a basic level of Dutch and Greek.
www.athena.yoga
https://www.instagram.com/yoga.athena/
https://www.facebook.com/yoga.athena.vk